chek-mate Flowmeter
The SKC chek-mate Flowmeter is our easy to use differential pressure flowmeter for calibrating air flow sample pumps at flow ranges between 0.50-5.0 L/min, 20-500 ml/min and 5.0-30.0 L/min. The chek-mate meets the accuracy requirements of MDHS 14/4, and other HSE sampling methods.
No moving parts
Can be used in any orientation
Built-in temperature and atmospheric pressure compensation
Short stabilisation time
Accuracy to 1% over the vast majority of the measuring range
Auto-shutoff to conserve battery
Compact, portable and lightweight
Available in medium flow, low flow and high flow models:

0.5 to 5.0 L/min
20 to 500 ml/min
5.0 to 30.0 L/min

CalChek automatic flow calibration with specific SKC sample pumps (375-0550 and 375-50300 models only)
Easy to use:

Connect sample train to the chek-mate
Press the only button to turn the chek-mate on
Wait for flow reading to stabilise to within 1-2 ml/min
Adjust pump flow if necessary
Turn off chek-mate
CalChek Interface
The 375-0550 incorporates a CalChek communication interface which enables automatic flow calibration of AirChek 3000 and AirChek TOUCH pumps. A CalChek communication cable, part number 375-200, is plugged into the CalChek socket on the side of the chek-mate, and the DataTrac interface socket on the AirChek 3000 pump or the charging cradle for AirChek TOUCH pumps. The CalChek function enables single point flow calibration of complete sample trains, and also full CalChek calibration, calibrating the pump across its entire operating range with no sample train connected. When performing a full CalChek calibration a pulsation dampener, part number 375-100, is required to be fitted between the chek-mate outlet and pump inlet ports.
High Flow chek-mate
Due to the nature of high flow diaphragm type sampling pumps the flow pulsation that they exhibit may affect the accuracy of the 375-50300 chek-mate. We are therefore recommending that the 375-50300 chek-mate is always used with a pulsation dampener (part number 375-150).
Bubble Film Flowmeters
Bubble Film Calibrators, also known as soap film flowmeters, are used to accurately calibrate air samplers. With a film flowmeter, flow rates are based upon the inherent, unchanging properties of the measuring apparatus.
Primary Standard
Simple to use
Sample contacts only glass and stainless steel
Calibration lines encircle the tube for easy reading
The sampling pump to be calibrated is attached to the top of a volumetric glass tube containing a small amount of liquid soap. As the pump draws air through the tube, a flat soap bubble is interposed in the flow path. While the air flow causes the soap film to move from one volume mark to another, the travel time is measured with a stopwatch. The flow rate can then be directly calculated using the travel time and the known tube volume, or it can be read from the flow chart. The test is quick and easy to perform.
The Flowmeter Kits are calibrated to a primary standard, ±2% of the volumes marked on the flowmeter.
Calibration Adaptors and Accessories
SKC offers a range of accessories to help with calibration.
Rotameters
A rotameter is a device that measures the flow rate of liquid or gas in a closed tube. Rotameters are secondary calibration standards, and can be used to obtain accurate and reliable measurements of pump flow rates if they are calibrated to a primary calibration standard on a regular basis. SKC rotameters are lightweight, rugged, portable, and available in different flow ranges to cover a wide range of air sampling applications.
Easy-to-read scales
Rugged and portable
Low cost
The SKC rotameters are available in 2 models:
The Standard Rotameters have a 100 mm scale and incorporate a stand/base.
The Field Rotameters are for use in the field with provision for panel mounting.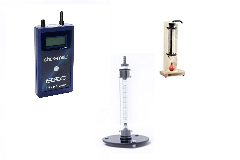 Equipment Calibration and Servicing
SKC recommends annual servicing and testing of your air sampling pumps and calibration of your airflow calibrators.
The advantages of an annual service are:
To ensure your unit is working within the correct specifications
Check the functions and features to give you total confidence that the unit is in good working order
Provide a manufacturer's service test certificate for pumps or traceable calibration certificate for airflow calibrators for your records
Please rest assured that whilst the COVID-19 situation continues we have strict protocols within our offices and factory spaces to enable our team to continue working safely and so provide the same quality service and products to all our customers.
All possible precautions will be taken upon receipt and return of your equipment which will be fully sanitized prior to being returned to you.
For all information and/or to book a service, calibration or repair, please don't hesitate to contact us at This email address is being protected from spambots. You need JavaScript enabled to view it. or call: 01258 480188.