Sound Level Meters
Class 1 or Class 2 Sound Level Meter?
Sound Level Meters (SLM) are divided into two Classes, Class 1 and Class 2; both have the same functionality but different tolerances for error. Class 1 meters have a tighter tolerance ("precision meter") than the lower cost Class 2. This applies to both the instrument and its associated calibrator. Most standards/regulations permit the use of "at least a Class 2 instrument". These Sound Level Meters can also function as a dosemeter.
It is recommended that the instrument's calibration is checked and adjusted where necessary using an Acoustic Calibrator before readings are taken, and calibration rechecked after taking readings, to confirm the validity of the results.
Class 2 Integrating Sound Level Meter
This meter uses simple, logical keys to immediately display the required information. As this is a non-data logging meter the results will have to be manually recorded.
Class 1 and Class 2 Data Logging Sound Level Meters
These meters have an easy to follow menu system and clearly marked keys, all designed to make the meter simple to use. A clear backlit LCD with large digits and a bargraph display show the changes in sound level as they occur.
Acoustic Calibrators for Sound Level Meters
Acoustic Calibrators are used to set the sensitivity of the microphone of the sound level meter for field work (the SLM should be recalibrated annually to a traceable national standard). It is recommended, just as with air sampling pumps, that calibration should be made before and after a series of measurements.
Class 2 Calibrators produce a tone at a single frequency (typically 1 kHz) at a specified Sound Pressure Level (SPL).
Class 1 Calibrators produce a tone at the same frequency but at two different SPL's. Class 1 Calibrators must be corrected for barometric pressure, as stated in IEC 60942:2003, using a barometer and a conversion table, and this is supplied with the Class 1 Calibrator. If required the barometer can be purchased separately, to be used with a Class 2 Calibrator.
Noise Dosemeter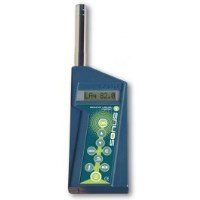 A dosemeter measures the actual noise that the worker receives at the ear, over time, and may be more easily understood than decibels, as it is displayed as a percentile. A 100% dose is the permitted level (87 decibels) experienced over 8 hours. The Dosemeter is also offered as part of the Legislation Starter Kit, Part No. 790-006NK.
| | |
| --- | --- |
| Description | Part Number |
| Dosemeter | 790-216IGA |
Personal Sound Alarm Unit
This unit is worn by the worker and activates when the noise exceeds a pre-set level, indicating that ear protection should be worn. The dBAlert is suitable for most industrial situations with its rugged construction. When the noise level exceeds the pre-set level an ultra-bright warning LED will begin to flash and a vibrating alert will pulse for 15 seconds. Once the noise in the area falls below the threshold for more than 30 seconds the LED is extinguished and a few short pulses from the vibrate alert will be emitted.
The dBAlert comes complete with a pocket clip, and the membrane keypad means that integrity and simplicity of use are maintained.